Redesigned Viaphoto Simplified Photo Collaboration And Album Design Application For Photographers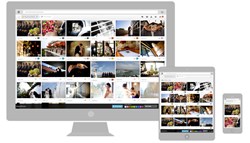 Many album design applications lack the features that are needed for photographers to quickly design and collaborate photo albums with their team members, designers and clients privately, anytime, and anywhere. An issue with other album design applications; they are too difficult to use and it is too time consuming. A second issue; once they've completed the design, they have to get an approval from the clients before it goes to print which is another problem on its own because of the many changes that sometimes require a photographer to make. ViaPhoto was launched last November and they hope to fill that void, so, what's new? The company has been busy working on a simplified and more powerful version. The new redesigned ViaPhoto 2.0, rebuilt from the ground up, will allow photographers to collaborate privately in real-time with team members, designers and clients as though they are right next to each other, and feature a customizable photo organization system that would make album designing easier than ever.
In the past, photo proofing systems relied solely on email in order to communicate. Now, collaborators can simply add comments anywhere on the image and each comment is instantly shared privately among the collaborators; no need to even refresh the web page to see the changes. This powerful collaboration feature allows the users to receive instant feedback from each other greatly speeding up the photography workflow.
But the star feature of ViaPhoto 2.0 is the all-new customizable labeling system which allows the user to organize by grouping the photos by color and name. The application will automatically place the grouped photos according to the color label. When switching to the album designer, click on the wide selection of professionally made templates and the application will automatically design the layout instantly. Not liking the new design? The user can redesign it manually and save the new design into their favorite template folder for future reuse. This will drastically cut the time spent designing, as anyone who has tried to design an album will know. This new organization and auto design features will turn hours of work into minutes.
ViaPhoto version 2.0 is currently available for private beta testing. If you would like to be a part of the beta group, go to http://viaphoto.com and click on the 2.0 tab.
###


For the original version including any supplementary images or video, visit http://www.prweb.com/releases/ViaPhoto-photo-sharing/album-design-application/prweb11567929.htm
Recent Comments
comments